The National Schools Championships: Stepping Onto The Big Stage
---
I can remember it like it was yesterday, 5th July 2013, Alexander Stadium, Birmingham... day one of our five-year English Schools journey that saw Joe 'crowned' English Schools Champion twice. But, it nearly didn't happen*.
For those of you who haven't yet come across the Schools Athletics Association Championships, here's a brief intro:
About the Schools Athletics Association Championships
As the name suggests, the championships are the annual finale of school-based athletics competitions held in each of the home nations, and are, in the early years at least, the pinnacle of success for school-age athletes. There are three age group categories: Junior (13 to under 15 years on 31st August); Intermediate (15 to under 17 years on 31st August); and Senior (17 to under 19 years on 31st August). Winners from the England, Scotland, Wales, and All Ireland events then go on to compete at the Schools International Athletics Board (SIAB) event, for the glory of becoming overall champion, needless to say, the quality of this event can be impressively high, especially in the senior age group.
Listen to Joe & Caroline discussing their own experiences of English Schools Championships below 👇
For more videos and content like this, signup now for FREE!
At school, children who demonstrate ability in athletics are put forward to compete at their local county championships and, if the relevant School Athletics Association standards are achieved, they then get the chance to represent their county at the home nation's champinships. One of the problems with this set-up is that it's down to teachers to ensure athletes don't slip under the radar and miss out on what can, for some, literally be a life-changing opportunity. Joe's school wasn't particularly 'into' athletics and they also weren't aware of his involvement at the local club, as a result, his name wasn't put forward for the county championships. Thankfully, this was noticed by an on-the-ball member of Sussex Athletics who phoned me two days before the event to ask why he hadn't entered... my response, that I knew nothing about it or 'English Schools', frustrated him... needless to say, Joe's name was added and the rest, as they say, is history.
*Moral of the story: If your child doesn't get entered for their school county champs in May, and you feel that maybe their athletics ability hasn't been noticed, raise the subject with their P.E. teacher. It may be worth bearing in mind that teachers have a lot on their plate and that an oversight is almost certainly not intentional...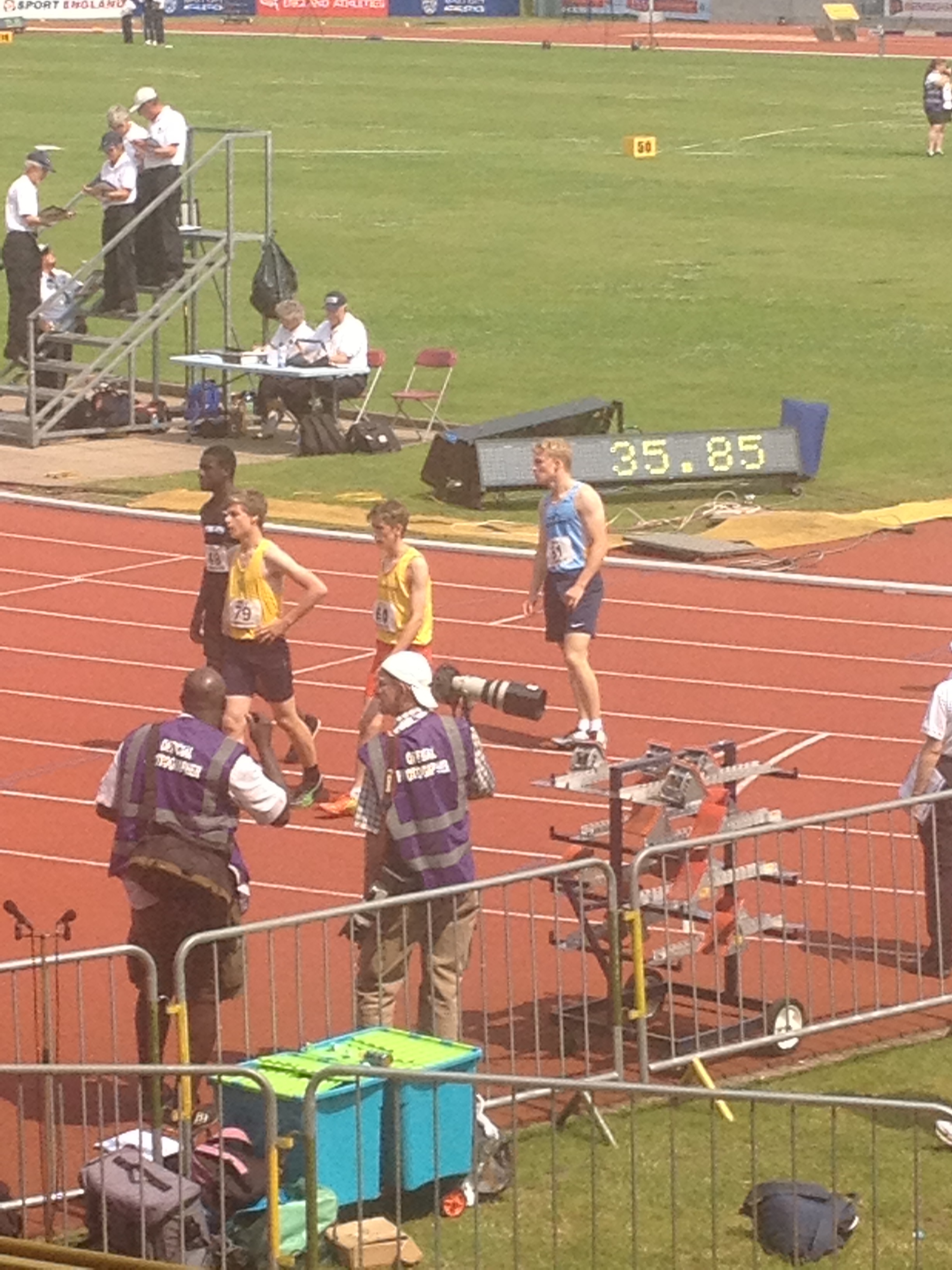 What to expect
The three-day National Championship event itself is HUGE... I once heard English Schools described as the 'biggest athletics competition in Europe'. It is a supremely well-organised event and literally runs like clockwork and pretty much to the second... if your athlete's race is at 11:45 am, the start gun will fire at that time!! The event's importance is also undisputed, with the majority of senior GB athletes citing these events as the launch pad for their future success... and until 2013, there was even coverage on Sky Sports! Each nation-specific name, in our case 'English Schools', soon becomes a very frequent part of an athlete's (and parent's) vocabulary and synonymous with the word 'talent'. It's no wonder, therefore, that with a child's selection comes an immense wave of parental pride, a quick glance across the predominantly parent audience leaves no doubt of this.
Seeing your own child competing in something so big and in a stadium that has probably hosted major senior championships shown on tv, is at first, hard to get your head around. Until now, a local club or YDL event, standing a few feet from the action with just a handful of other parents seemed exciting... now you're suddenly in a vast stadium surrounded by an audience bigger than that attending the senior British Championships, your child a dot in the distance!
Until you're there, you can't begin to imagine how this will feel for you as a parent!
Our first English Schools
At our first English Schools, we sat amongst literally thousands of other super-proud parents in the main stand at Birmingham's Alexander Stadium whilst the athletes all sat with their respective teams in the opposite back straight stand, a real 'us and them' scenario. This was a first for both athletes and parents... not only were they expected to sit together as a team and not with us, they also stayed together as a team in local hotel accommodation. In fact, the entire weekend quite literally, was conducted in this independent manner. A serious, but hugely valuable learning curve for both athletes and parents.
Independence and accountability lessons...
This independence started early on the Thursday morning in a service station car park off the M25. It was like watching the departure of a giant school trip, a small group of heroic adult team leaders trying to herd more than a hundred loud, over-excited, hyper kids onto coaches, whilst we parents looked on thinking two things: firstly, good luck with that(!) and secondly, contemplating the sense of weird loss as all control was removed from us and handed to the team leaders and, alarmingly, the kids themselves! 
Having previously organised everything from ensuring he got to races on time and remembered his spikes, to pinning on race numbers, how on earth was this ever going to end well? .... spoiler alert, for Joe it almost didn't! The parental shame on hearing that it was our child that overslept, missed breakfast, and made the entire team late for day 1 wasn't great!! On a positive note, he's never been late for a race since (well not through his own fault anyway... see other posts for late arrival traumas from car breakdowns and traffic delays!). 
(If only Joe had this urgency getting to the team bus on time...)
Parental nerves
A particular memory of this first day was just how small Joe seemed as a 13-year-old, walking onto the track in the middle of this enormous 'professional' arena, a crazy contrast to the low-key YDL matches at local clubs. It was surreal to look up and see your own kid's name on a giant scoreboard showing each race's start list. This all suddenly felt rather serious and was, without doubt, my first real experience of nerves. That feeling of knowing you're utterly powerless to influence outcome, powerless to 'help' if something goes wrong, was profound for me as a mum.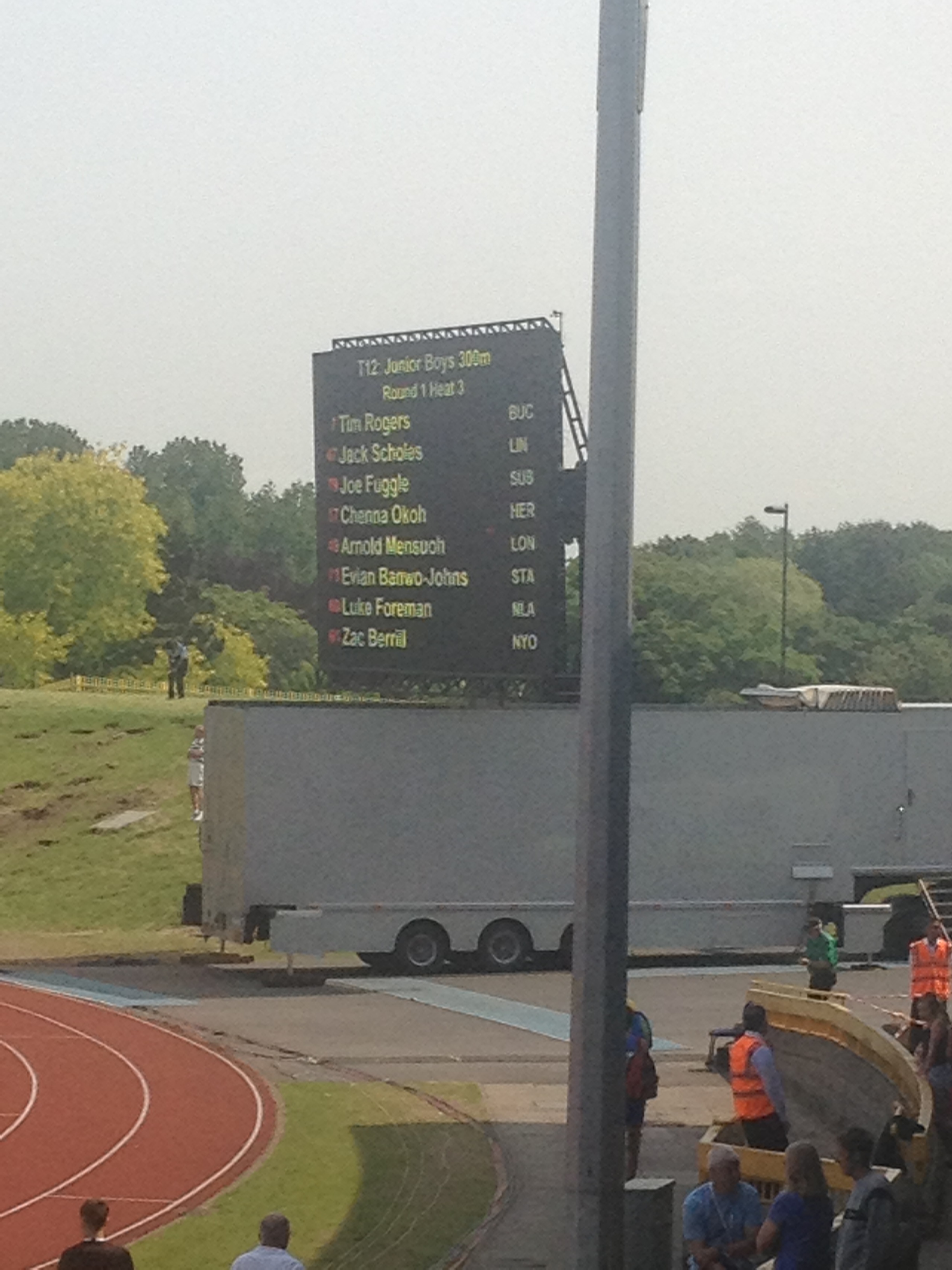 The biggest result - friendships
I'll be honest and say that this first English Schools did trigger, inside me, hopeful thoughts that maybe Joe could achieve something within the sport, but at this age, enjoyment and having fun with his team mates was by far the overriding focus. The social side was immense for the athletes and without doubt, the greatest thing about this first championships was that at last, they had an opportunity to get to know other young athletes from across the country. Many of the new friends made that weekend became friendships that still exist today.
Fundamentally, the huge sense of achievement young athletes feel on this giant stage can stay with them, allowing a belief that anything is possible. It stands to reason, therefore, that experiencing this sort of feeling at the age of 13, can be profound for a child, potentially impacting life from that point onwards and into adulthood. And this is what makes sport so unbelievably powerful. For Joe, the experience was most definitely a turning point, not just in athletics but in life too.
Start Your Athlete Parent Journey Today.
Choose from 10 topic-specific packs starting at 29.99/year each, or Access All 10 Packs for just 99.99/year.